"You mean I have to speak in court?"
"How will I know what to say?"
"What if I forget to say something I meant to?"
For Court Appointed Special Advocates, attending hearings can be one of the most intimidating aspects of advocacy.  But with a little bit of preparation, you might find that hearings are a breeze.  Here are a handful of tips and tricks to navigating the courthouse, from the CASA office and a few local legal professionals.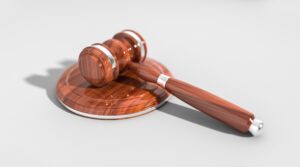 Prep Work
Let's face it—the courthouse can be an intimidating place!  But there are ways you can prepare yourself that will help put you at ease when you arrive.
Look the part. Whether you're a stay-at-home parent, a retired CEO, or anything in between, the beauty of the CASA program is that you are now a professional—about the child!  Have you dressed in an appropriate manner that reflects the seriousness of the proceedings?  Leave your jeans and flip-flops at home. Instead, shoot for business casual attire.
Take care of the logistics. Plan to arrive at least 15 minutes early, just in case the courtroom is running ahead of schedule.  Have everything you need ready before you head out the door.  Do you have your CASA lanyard, plenty of change to fill the parking meter for more time than you think you'll need, and the name of the judge so you know which courtroom to go to?
Prepare a statement. It's easy to freeze in the moment the judge calls on you, then kick yourself later for not highlighting important information that is focused on the child.  Consider preparing a brief statement to refer to if you find yourself searching for words in the courtroom. "We all forget sometimes what we want to say," says Paul D. Vestal, deputy Yellowstone County attorney. "Notes would help that."
Review your report. Some judges ask advocates about specific items in their hearing reports.  It's likely been at least a week since you submitted your hearing report, so a quick review of what you stated may come in handy.  Especially when "a report contains a suggestion for services of some kind, be prepared for a question about that service" from the judge, says Deborah DePietro, guardian ad litem.  Reviewing your report will also help remind you of any new information that's come up in your case that hadn't happened as of the date of your report.  It's important to share those details with the social worker and/or GAL when you arrive, or even with the judge during the hearing.

http://law.uky.edu
On the Spot
You've gotten to the courtroom with time to spare and taken a deep breath.  Now what?
Identify yourself. The GAL won't be able to announce your presence to the judge if he/she doesn't know you're there.  Even if you've been in regular email or phone contact, don't forget that there are around 150 active advocates with cases in Yellowstone County, so putting your name with your face and case will enable the GAL to connect the dots.
Sit near the GAL. It's important to sit near the GAL so the judge doesn't have to search for you elsewhere in the courtroom.  In some situations, the advocate can sit with the GAL during proceedings not related to his/her case as the advocate waits for his/her hearing.  Ask the GAL's permission to wait in the courtroom. If he/she's not comfortable with that, ask him/her to come get you in the hallway when your hearing is about to take place.  You can use the wait time to review your prepared statement.
Own it. Remember that you, and only you, have been specially appointed by the judge to be the advocate for this child.  Over the course of your advocacy, you have gotten to know the child in a way that is different from every other adult in the child's life.  As such, "you have a right to be heard," says Corbit Harrington, Deputy Yellowstone County Attorney.  Stand up when addressing the judge, and provide some perspective on the child that no one else in the courtroom may have!
Wrap It Up
Now that you've delivered a child-focused, factual statement and may have even answered the judge's questions, you can wipe the sweat off your brow.  But your work isn't done yet!
Take note. Some judges will set the next hearing date and time right there in the courtroom, while everyone is able to check their calendars. There's no time like the present to start preparing for your next hearing, so jot down those logistics to share with your peer coordinator when you leave the courthouse.
Keep an eye out. Is there anyone in the courtroom you haven't met?  Are there extended family members or even birth parents whom you've been trying to reach?  The courthouse is a great place to walk right up and shake someone's hand instead of hoping they'll return your call.  Take advantage of the fact that you're in the same room, and introduce yourself.  The double-sided "What is a CASA Advocate?" cards you received from the office may help break the ice.
Ask questions. If you're not sure what happened and got lost in the legalese, the GAL can be your best friend.  After the hearing has ended, don't be afraid to ask the GAL to translate the proceedings that just happened into laypeople's terms.
Stay connected. Don't forget to submit a contact log in Optima reflecting the time you spent at the hearing. It's important to stay in contact with your peer coordinator about all aspects of your case, including hearings.
You have a great privilege in your appointment to be the eyes and ears of the judge when it comes to your child.  If you keep these pointers in mind, you will maximize your impact as the voice of the child!