For as long as we've existed, CASA of Yellowstone County has struggled to adequately serve the Native American children in our local foster care system.
At CASA we believe that all children deserve to have a voice, and that this voice is most effective when it comes from within the child's culture. Unfortunately, we have never been able to provide every Native American child we serve with a Court Appointed Special Advocate who comes from a similar cultural background.
The overrepresentation of children of color in the child welfare system is a national tragedy, one that has gone on for many years. Our community is not immune from this phenomenon, as disproportionality exists here as well. According to the U.S. Census Bureau, 4.6% of the residents of Yellowstone County are American Indian. In contrast, according to DPHHS figures approximately one-in-three children in local foster care at any given time are Native American.
Meanwhile, CASA of Yellowstone County is working hard to effectively navigate this disproportionality, because fewer than 2% of our Advocates are Native American, representing an even lower percentage than the general population.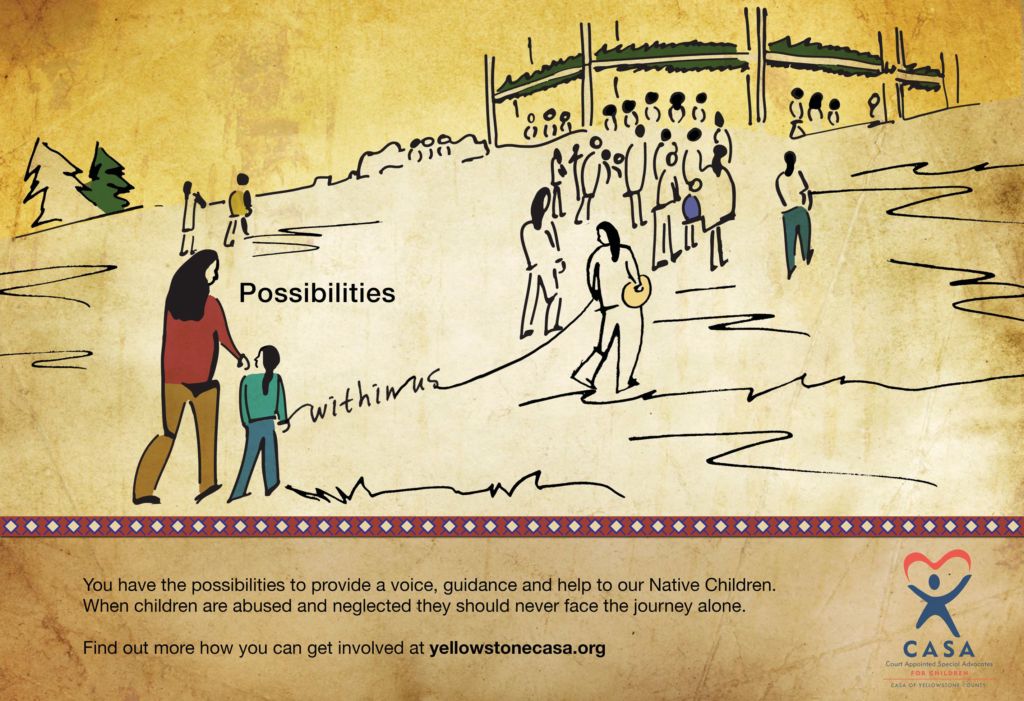 In recognizing that we need to do more, our organization over the past two years has worked to build meaningful relationships with groups and stakeholders within the Native American community. Through consistent visits, we've received invaluable feedback on how we can continue to play a more meaningful role through small but important organizational changes, to help us better serve children in care.
This has all culminated with the launch of our Native American Recruitment Campaign, a multi-faceted effort with the goal of providing quality, culturally-appropriate advocacy through more Native Advocates. We kicked off this campaign on March 6 at CASA of Yellowstone County's "Our Children are Sacred: A Community Response" luncheon at the Billings Public Library. Speakers at this event included Jennifer Smith, Director of Indian Education for All at Billings Public Schools and member of the CASA Board of Directors; Leroy Not Afraid, Chief Judge of the Crow Tribe; Michael Gray, President of G+G Advertising, which created the campaign materials; and Molly Bell, Regional Director for Senator Jon Tester.
Over the next few months, you will see our new billboards around Billings. You will see our posters hanging in local businesses and community spaces. You will hear about us on the radio, such as during National Native News every weekday on Yellowstone Public Radio. Most importantly, you will see CASA staff, volunteers, and board members present at events of significance to our Native community.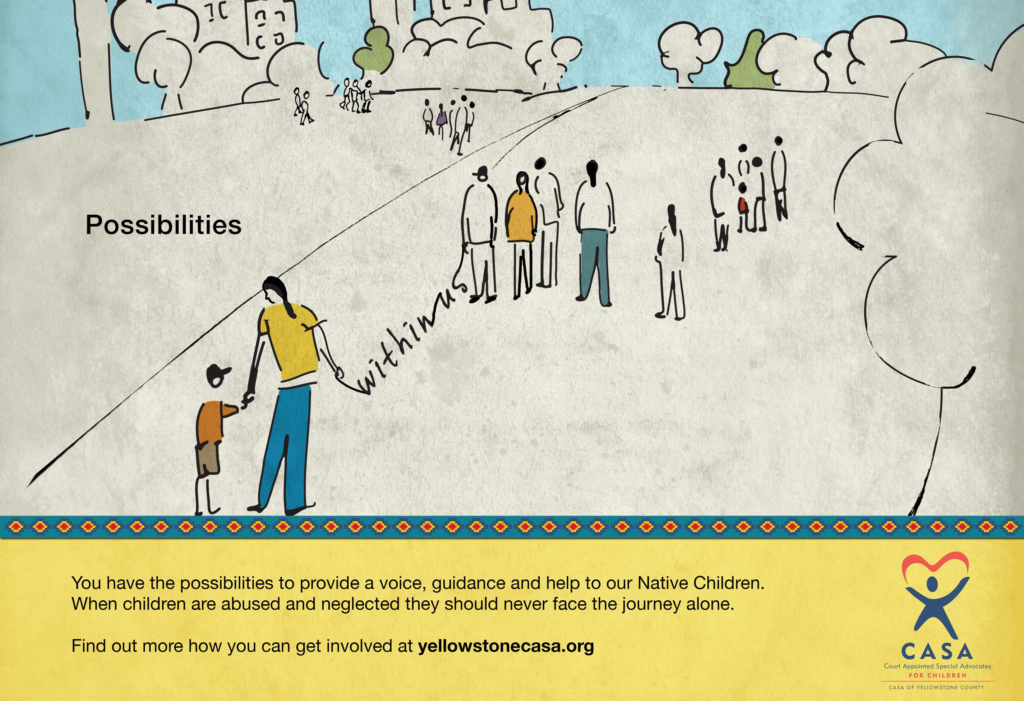 If you, like many of the kids in foster care, are a member of a tribal nation or come from a Native family, and you believe you can be a bold Advocate for a child or group of siblings in foster care, we would love to speak with you!
On March 29, the Billings Gazette published an editorial entitled "Warriors for Yellowstone County kids" detailing the need for more Advocates for Native children in foster care and our organization's efforts to reach more Native adults to fill this role. Check back in to this blog for more updates on our campaign in the coming months.