Gavin and Abby were on their 2nd removal from their birth mother when a judge assigned a volunteer Court Appointed Special Advocate (CASA) to their case. 3-year-old Gavin had serious medical issues requiring surgery on his legs that had not been properly addressed with his mother. He and his younger sister Abby had lost their birth father that year to a drug overdose. The CASA met with them on a regular basis, getting to know the kids and their foster family. Nearly a year later, the case was dismissed, and the kids were reunified with their birth mother. However, within 6 weeks the kids were removed from their mother again due to her drug use and neglect.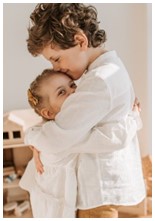 Their CASA was immediately back on the case and visiting the kids, being their constant in a time of turmoil and struggle. He met with them several times each month and became familiar with the new foster family, their 3rd placement that year. The CASA connected with Gavin and Abby's doctors, daycare providers, teachers, counselors, and birth mother to get a complete picture of the children so he could make the best recommendations for their well-being. He walked alongside them as Gavin started elementary school and as they both moved to their 4th foster home, where they are currently residing and flourishing. The kids played soccer this fall, and the CASA attended multiple games to cheer them on. After years spent in foster care, the parental rights of their birth mother were terminated, and their foster mom is pursuing the adoption of the siblings.
In December, the CASA visited the kids to celebrate Abby's 5th birthday. When he arrived, 7-year-old Gavin came running over to greet him. After the CASA asked Gavin how he was doing, Gavin's face lit up in a big smile as he said, "Good! We're in a forever home!" Thanks to the trust and constancy the CASA built with the children, they now have the permanency and stability they have always so desperately needed.
This is a true story about a volunteer Court Appointed Special Advocate and children in foster care. If you would like to learn more about becoming a CASA for a child in foster care, join us for an Information Session to learn more.